Saturday, August 8 – Producing and Directing in the COVID-19 Environment panel at Emerson College
The Caucus for Producers, Writers & Directors and Emerson College LA invite you to a panel discussion on TV production during COVID-19.
About this Event
Saturday, August 8th at 11:00 am PDT/2:00 pm EDT
Learn how four of the top producers in the industry have recently shot live and semi-live shows virtually for broadcast across multiple platforms in the middle of the pandemic. Audience Q & A to follow the panelists' presentations.
Q & A will follow the panelists' presentations. Join us for this exciting and compelling event!
Register today on EventBrite!
https://www.eventbrite.com/e/producing-and-directing-in-the-covid-19-environment-registration-113036356786
Eventbrite will email you a Zoom link in advance of the event.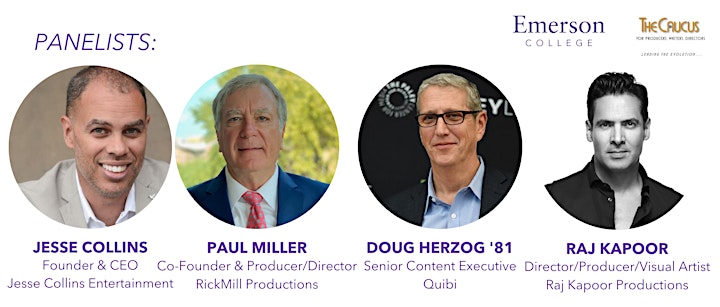 Paul Miller (moderator) is a three time Emmy winning director/producer of live television specials and series including Saturday Night Live, In Living Color, The Country Music Awards for 25 years and the Tony Awards for which he won an Emmy and DGA Award in the Musical/Variety category. For over 30 years, he has directed The National Memorial Day Concert and A Capitol Fourth in the nation's capital. He recently concluded directing those two semi-live events utilizing both on site Zoom content and directing remotely during the live broadcasts.
Jesse Collins is the Founder & CEO of Jesse Collins Entertainment (JCE) and the Executive Producer of scores of scripted and unscripted shows.  On the unscripted side, Collins and JCE have produced award-winning programming including the BET Awards, BET Hip Hop Awards, BET Honors, UNCF's An Evening of Stars, ABFF Honors, Soul Train Awards, Love & Happiness: An Obama Farewell amongst many others.  Jesse Collins recently executive produced the BET Awards, which was shot virtually and simulcast on both BET and CBS for the first time ever.
Doug Herzog '81, a proud Emerson College alumnus, is widely recognized in the industry for leading and building some of cable television's most successful network brands. As President of Viacom's Music Entertainment Group, Doug oversaw Comedy Central, MTV, VH1, Spike, TV Land and Logo. Under his leadership, Viacom became home to some of television's most acclaimed and enduring franchises, including "The Daily Show with Jon Stewart," "The Colbert Report", "South Park," "Inside Amy Schumer", and "Lip Sync Battle." Currently serving as a consultant to Quibi, the mobile-centric streaming platform devoted to short form content, Doug is uniquely positioned to share his perspective on how the television industry is adapting to the COVID-19 world.
Raj Kapoor is a producer of multiple Oscars, Grammys and Emmys Awards shows as well as the ACMs, AMAs, American Idol, Aretha Grammy Special, The Beatles Grammy Special, Billboard Awards, CMAs, Dancing with The Stars, People's Choice Awards, Stand Up To Cancer, The Little Mermaid Live!, The Voice, and XQ Super School Live. Most recently Raj was Executive Producer of Graduate Together and two Disney Family Sing-Along specials which were all produced and directed using virtual technology.